Feel and live the destination, don't just cruise through it. Heritage Expedition is a program particularly designed for those who love exploring and immersing themselves in local life, nature, culture, and adventure to discover the authenticity of the destination.
Venture off the beaten path, go kayaking, and visit floating fish farms and villages. Discover secluded beaches, lagoons, coves, and caves. The Heritage Expedition itinerary is the same itinerary as the 3day cruise program, but the extra day gives you the time to discover the Cat Ba Archipelago in depth. We include a day to explore Cat Ba Island, Trung Trang Cave, visit the local market and fishery factory, Beo seaport, and Lan Ha floating village in Lan Ha Bay. Cruising is all about personal experiences. With this expedition cruise, we ensure your cruising experience is comfortable and special, with excellent food, friendly staff, an interesting itinerary with many optional activities, excellent service, and attention to detail, elegance, sophistication, and sense of adventure.
Heritage Cruises aims to offer each guest the opportunity to create their own memories with exquisite cuisine, 24 hour room service and fun activities. Dine whenever and wherever you wish, and choose from massage options.
This boutique cruise starts at Tuan Chau Marina in Halong city, reached from Hanoi by shuttle bus (optional). At noon, the boat's team welcomes you aboard and checks you into your exclusive cabin. The first part of the cruise presents the wild beauty of Halong Bay and followed by Lan Ha Bay's panoramas. A few minutes into the cruise guests are invited to taste Vietnamese dishes at the restaurant. This is just the beginning of four days packed full of highlights ensuring a memorable trip.
After this, guests have a range of options including massages, kayaking, or afternoon tea. In the evening a chef gives a cooking demonstration featuring traditional Vietnamese spring rolls. After an a la carte dinner, activities can include board games and squid fishing. The second day is dedicated to leisure including meeting locals and visiting remote villages, hidden coves, and lagoons.
After breakfast on the third day, take the speedboat to the Gia Luan seaport to explore the largest island, Cat Ba. Visit the largest cave on the island, learn about the process for making the sauce at the Nuoc Mam (Fish Sauce) factory, a favorite with the Vietnamese, then board the speedboat to explore Lan Ha floating village and Lan Ha Bay. The fourth day starts at sunrise with Vovinam, a Vietnamese martial arts session. It is followed by an exploration of Dark and Bright Cave, and there is enough time to take a swim or sunbathe on the beach. After checkout, brunch is served on board while cruising back to Tuan Chau Marina for your onward destination.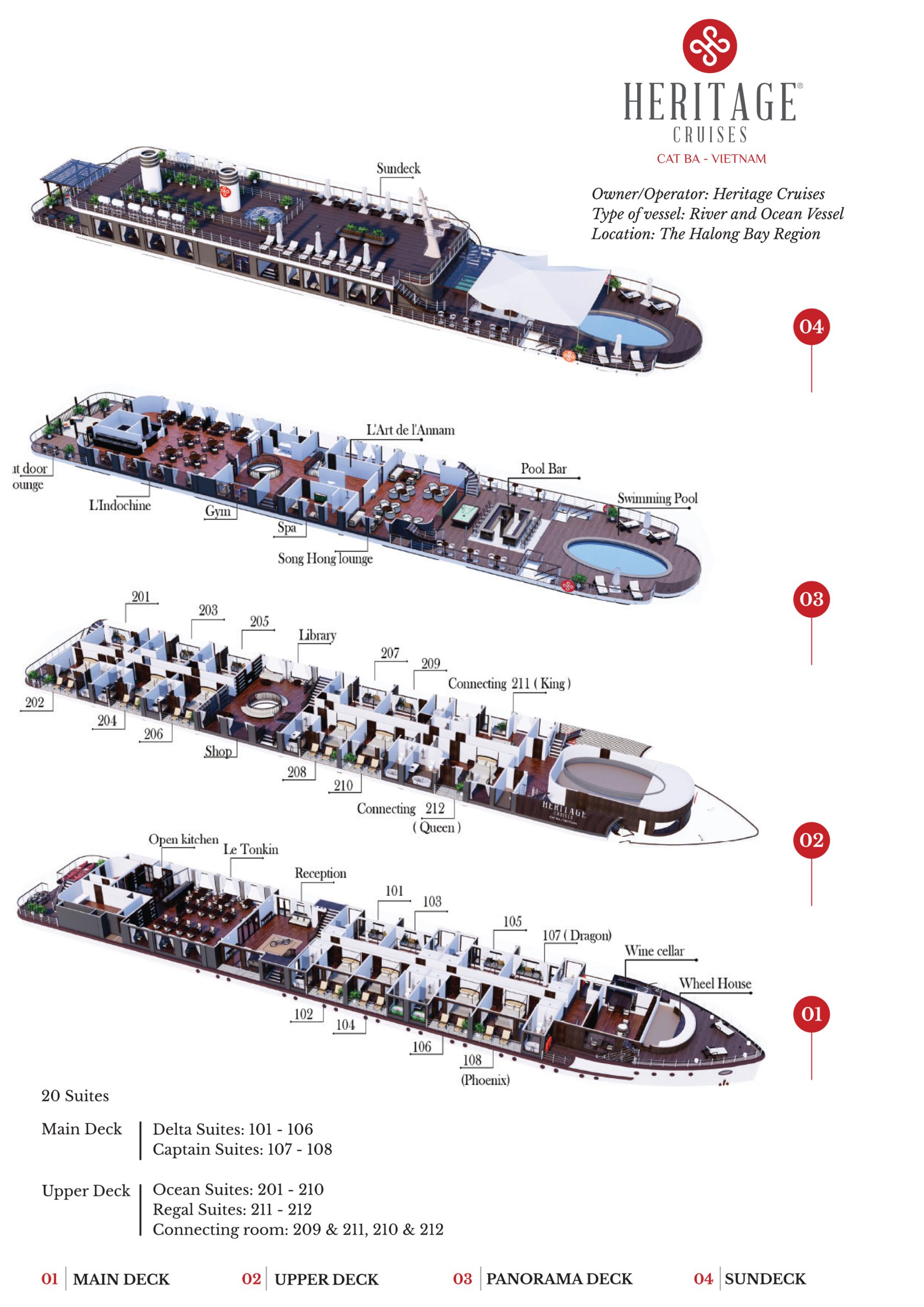 DESTINATIONS
Halong Bay – Lan Ha Bay – Cat Ba Island
Tuan Chau Marina
Da Chong Islet
Ba Trai Dao Beach (Lan Ha Bay)
Viet Hai Village
Dark and Bright Cave
Gia Luan Seaport
Cat Ba Center
Local Market
Trung Trang Grotto or Quan Y Cave or Diamond Cave
Fish Sauce (Nuoc Mam) factory
Beo Seaport
Lan Ha Floating Village
ACTIVITIES
Cave exploration
Kayaking or bamboo boat ride
Swimming
Cycling
Walking
Massages
Cooking class
Music entertainment
Squid fishing
Vovinam
WHAT TO BRING
Sunglasses, hat, sunscreen, insect repellent
Comfortable clothing and swimwear (warm clothes in winter)
Camera, valid passport
Sports shoes for climbing, trekking, and walking
Personal medical supplies
ITINERARY
DAY ONE: HANOI – HALONG BAY – LAN HA BAY IN CAT BA ARCHIPELAGO
8:00 – 8:30
Hotel pick-up for trip on new highway to Tuan Chau International Marina, Halong City (if you book our shuttle bus).
12:00
Welcome to Heritage Cruises Lounge at No.28 of Tuan Chau International Marina for refreshments before boarding for the cruise
12:30
Board the Heritage Cruises boat and enjoy a welcome drink as you receive a cruise briefing, safety instructions, and check-in to your suite. Lunch is served at L'Indochine Restaurant.
12:40
Heritage Cruises takes you to contemplate the magnificent sceneries made from the limestone mountains of Lan Ha Bay – Cat Ba Archipelago. This bay is untouched and remote, as not many cruise boats use this route.
15:30
The cruise vessel approaches the Ba Trai Dao (Three Peach beaches) (upon the weather) or Tra Bau area in Lan Ha Bay, a natural frontier between the provinces of Halong and Haiphong. This secret hideaway has beaches, caves, and coves, plus the spectacular natural beauty of about 400 islands. Guests can try kayaking or simply swimming in the crystal clear water of the bay.
17:30
Return to Heritage Cruises, enjoy life aboard the vessel or in your suite, and with a cocktail in hand watch the sunset over the Gulf of Tonkin.
18:30
Activities include afternoon tea and the chef will lead a Vietnamese cooking class
19:30
A memorable dining experience will be offered at the restaurant, with local food in an intimate and romantic setting.
21:30
Enjoy evening views of the bay at the bar on the top deck. Try your hand at squid fishing. The bars are open until late.
Overnight onboard
DAY TWO: HALONG BAY – LAN HA BAY HIDEAWAY
06:15
Start the day with a session of Vovinam on the sundeck, followed by coffee, tea, and pastries.
8:30
Transfer to a speedboat to visit Viet Hai Village. Take a bicycle ride or electric car through a rainforest tunnel that leads to a rice-field vista. Visit a traditional house in a village deep in a national park where you can observe the lifestyle of the local people and enjoy lunch in the village. Return to the speedboat to visit Lan Ha Bay.
13:30
Visit the Cat Ba Archipelago, cruise through Cai Beo floating village and then go to the Ba Trai Dao beaches where you can explore the secret trail and beaches, enclosed by vertical cliffs (if the weather and tide permit) or just swimming and kayaking in Tra Bau area.
15:30
Return to Heritage Cruises to enjoy cocktails, beer, and fine wine as the sky changes color.
17:30
Enjoy life aboard the vessel or in your suite, and with a cocktail in hand watch the sunset over the Gulf of Tonkin. The chef will lead a Vietnamese cooking class
19:30
Enjoy a fine-dining experience in the main restaurant
21:30
Welcome the night at the bar on the top deck, or try squid fishing. The bars are open late.
Overnight onboard
DAY THREE: EXPEDITION DAY ON THE CAT BA ISLAND, LAN HA BAY AND ITS FLOATING VILLAGE
| | |
| --- | --- |
| 10:00 | After a brunch, go by speedboat to the Gia Luan seaport and disembark to explore the largest island in the Gulf of Tonkin, Cat Ba. |
| 10:30 | Our driver and tour guide will meet you to drive you into the lush rainforest and scenic karst landscapes where you will stop to visit the largest cave, Trung Trang Cave or the Quan Y Cave close to Cat Ba National Park. |
| 11:30 | Head to the center of the island, join the locals at the market, and learn how Nuoc Mam (Fish Sauce) is produced, a favorite of the Vietnamese, at the fisheries factory. |
| 13:00 | Have lunch at a local restaurant in the center of the island. |
| 14:00 | You can walk around the Cat Co beaches before heading back to Beo seaport. (Optional) |
| 15:15 | Detour to the Ben Beo floating village where the speedboat will be waiting to take you out to explore Lan Ha Bay, the largest floating village in the Gulf of Tonkin, and relish the beauty of Lan Ha Bay. |
| 16:00 | Your adventure on land and water ends, and you are transferred back to Heritage Cruises. |
| 16:00-19:00 | Free time to enjoy the swimming pool and enjoy a cocktail or glass of wine at the Pool Bar while the sun sets over the bay. |
| 19:00 | Dinner will be served at Le Tonkin Restaurant. |
| 21:30 | Relax at the top-deck bar, try your hand at squid fishing. The bars are open late.Overnight onboard |
DAY FOUR: HALONG BAY – HANOI
| | |
| --- | --- |
| 06:15 | Start the day with a session of Vovinam on the sundeck. |
| 06:45 | Have a light breakfast on board. |
| 07:15 | Head off in a bamboo boat to explore the Dark and Bright Cave to enjoy the sparkling stalactites on the ceiling and feel the soul of the surrounding nature. |
| 9:00 9:30 | Return to the boat for checkout |
| 10:00 | Enjoy brunch while cruising back to the mainland |
| 11:00 | Return to Tuan Chau Marina and disembark for your onward journey. |
| 12:10 | While waiting for the pick-up service to your next destination, enjoy the comfort of our lounge |
| 14:00 | If you have booked our limousine service, our chauffeur will pick you up to take you to your hotel in Hanoi. |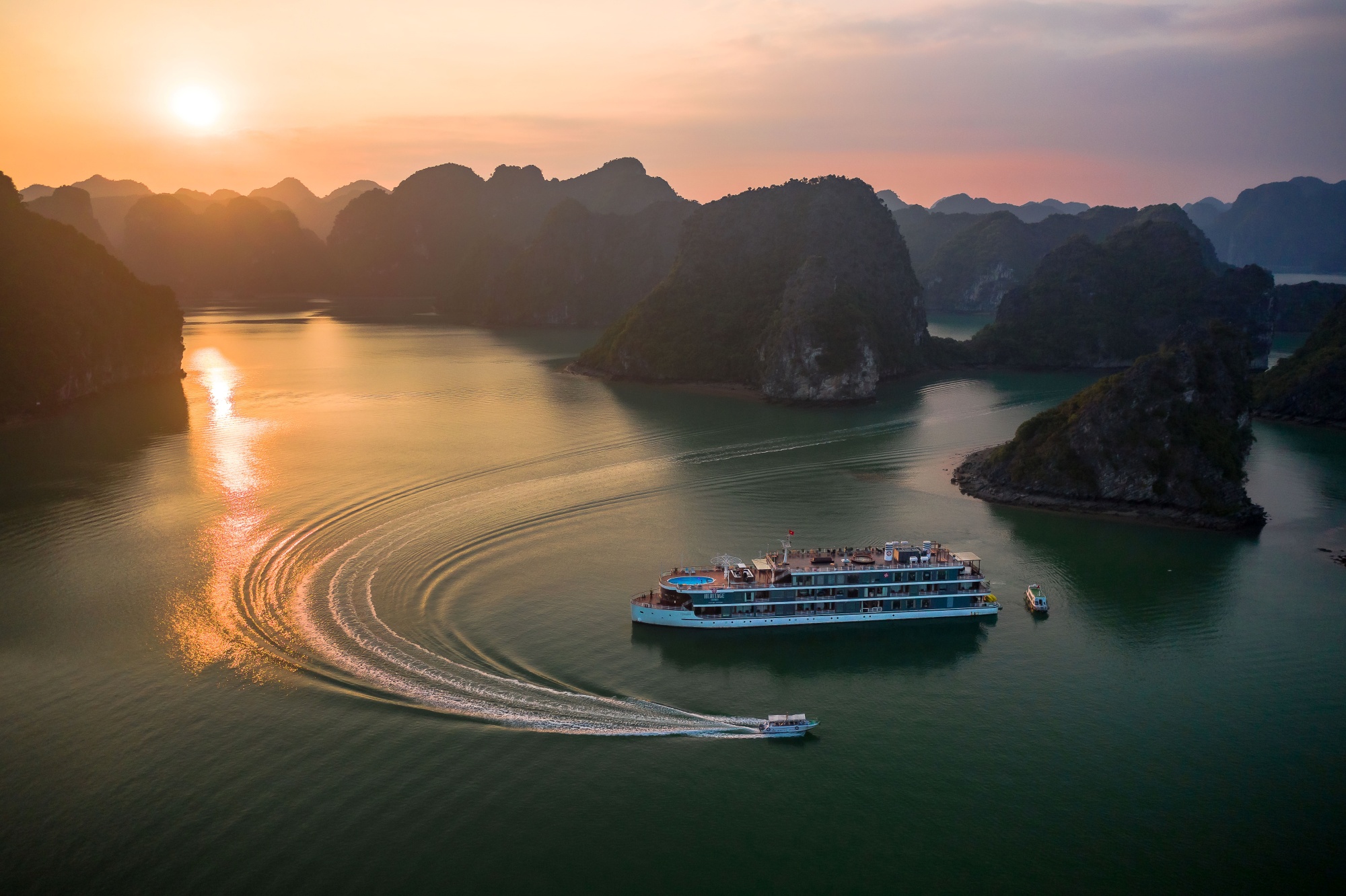 Notes:
Itineraries may be subject to change without prior notice due to weather, pandemic conditions, or regulation of Port authorities. Wi-Fi is available in the restaurant/bar area, but internet connectivity is limited due to the geography of the bay. Thank you for your understanding.